Publications
Opportunities for Whole-Person Care in California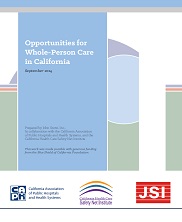 An individual's health is greatly influenced by the social and economic conditions in which they live, work, and play. Safety-net populations often experience a multitude of physical and behavioral health issues stemming from or amplified by psychosocial challenges such as housing instability, unemployment, and food insecurity, which influence access to care and health outcomes. There is a growing interest in linking social services, behavioral health, and healthcare delivery transformation in the safety net to meet the needs of low-income, vulnerable individuals who often experience complex social and economic challenges that may create, exacerbate, or complicate the treatment of health conditions. We propose a working definition of whole-person care as the coordination of health, behavioral health, and social services in a patient-centered manner with the goals of improved health outcomes and more efficient and effective use of resources.
This is the second of two papers that identifies policy recommendations and next steps for advancing whole-person care for California's vulnerable populations. The report analyzes findings regarding whole-person care related activities, opportunities, and challenges based on interviews in five California counties (Los Angeles, San Diego, San Mateo, Santa Clara, and Sonoma). It identifies opportunities for county-level safety-net stakeholders, state-level organizations and foundations, and California state policymakers to consider for implementing whole-person care strategies for California's vulnerable populations.
JSI prepared this White Paper with the generous support of Blue Shield of California Foundation and in collaboration with the California Association of Public Hospitals and Health Systems (CAPH) and the California Health Care Safety Net Institute (SNI). JSI, 2014.
Read also the first white paper:
National Approaches to Whole-Person Care in the Safety Net
Download (PDF, 542 KB)