Publications
Hospital Guide to Reducing Medicaid Readmissions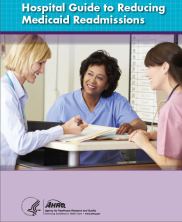 High rates of avoidable Medicaid readmissions are particularly acute in safety net hospitals, which serve some of the nation's most vulnerable populations, such as the homeless, and persons with serious mental illness and substance abuse problems, HIV, and severe physical disabilities. Reducing avoidable readmissions represents an important opportunity for improving quality while simultaneously reducing the costs of providing care to Medicaid beneficiaries.
The "
Hospital Guide to Reducing Medicaid Readmissions
," developed in partnership with AHRQ and JSI, identifies ways evidence-based strategies to reduce readmissions can be adapted or expanded to better address the transitional care needs of the adult Medicaid population.
The guide is the only federal tool available that is tailored to the adult Medicaid population. Hospitals at different stages of readmission reduction efforts can benefit from implementing this guide.
Download the Guide:
Hospital Guide to Reducing Medicaid Readmissions