Publications
Building the Foundation for Payment Reform for Community Health Centers in California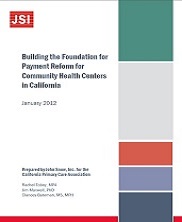 In the four years since the Affordable Care Act was passed, delivery system transformation and payment reform have gained momentum as effective means of achieving the Triple Aim (better health, better care, and improved per capita costs). Given that health centers continue to receive the bulk of their payments based on the volume of face-to-face encounters through the prospective payment system (PPS), it is critical for health centers to consider how alternative payment models will best support the delivery system transformation necessary to achieve the Triple Aim goals.
In Spring 2011, JSI was engaged by the California Primary Care Association (CPCA) to to conduct both a landscape scan and primary research with other states and to provide specific recommendations for next steps for CPCA to take in payment reform efforts. The CPCA represents over 1,000 member community clinics and health centers across California.
The resulting report, Building the Foundation for Payment Reform for Community Health Centers in California, has assisted the CPCA in catalyzing movement toward a more integrated and coordinated delivery system across the state. The report lays out a conceptual framework and vocabulary for payment reform discussions and key findings regarding four models that represent the areas of most activity nationally and in California: pay for performance (P4P), patient-centered medical home (PCMH), accountable care organizations (ACOs), and primary care capitation. With these models in mind, we posited that rather than pursuing a single alternative payment model, a combination of different payment methodologies will allow health centers to achieve the Triple Aim through flexibility, investment, and aligned incentives.
Over the last thee years, CPCA has used the JSI report and recommendations as a platform to engage health centers, safety-net partners, funders, and the State of California DHCS partners in meaningful discussions about payment models for catalyzing and sustaining transformation to a new delivery system. The three-layer payment model, which JSI and CPCA have shared with numerous stakeholder groups across California, continues to resonate with health center leaders.
We hope that this report can serve as a resource for health centers considering embarking down the road to a transformed delivery system that promotes value over volume of care. JSI, 2012.
Read the Executive Summary of the report.
Download (PDF, 796 KB)