Publications
Evaluating HIV Clinical Care Quality in the Massachusetts Sites supported through the Medical Case Management System: Results from 2010-2011 Review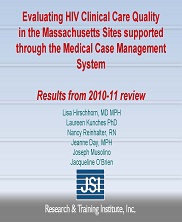 This presentation provides highlights the evaluation of HIV Clinical Care Quality in the Massachusetts sites supported through the Medical Case Management System for the 2010-2011 review year. Since 1998, through funding received from Massachusetts Department of Public Health and the Boston Public Health Commission, JSI Research & Training Institute, Inc. has been evaluating quality of care through chart reviews in Massachusetts HIV clinics supported through Ryan White Part A and B funding. Six 'rounds' of chart review were completed prior to this presentation, providing data for over 12 years (1999-2011); patients new to care were added to the cohort in 2002 and 2003.
This presentation provides 2010-2011 information on clinical quality management, data collection and analyses, patient samples presented, engagement among active patients, HAB performance measures and in+care measures, and a guide through the measurement report, limitations, and conclusions.
Hirschhorn, Lisa, MD, MPH, Kunches, Laureen, PhD, Reinhalter, Nancy, RN, Day, Jeanne, MPH, Musoline, Joseph, O'Brien, Jacqueline, JSI Research & Training Institute, Inc. 2011.
Download (PDF, 267 KB)