Publications
Third-Party Billing for Public Health STD Services: Needs Assessment Results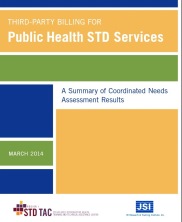 With the passage of the Patient Protection and Affordable Care Act, safety net providers that historically provided free or low-cost STD services through government funding are facing shifts in financing structure. At the same time, many Americans who were previously uninsured will have access to health insurance coverage. In order to sustain services, many safety net providers are increasingly diversifying their revenue streams by initiating or expanding third-party billing.
The STD-related Reproductive Health Training and Technical Assistance Centers (STD RH TTACs) are funded regionally to provide training and technical assistance (TA) to support the implementation of third-party billing and reimbursement systems for clinics and public health laboratories providing publicly-funded STD services. This billing needs assessment is a compilation of ten coordinated regional needs assessments conducted by each of the ten STD RH TTACs. Each region assessed three different target audiences: STD-certified 340B clinics, state or project area STD programs, and state public health laboratories. The purpose of the assessment was to determine the current billing status, barriers to billing, and training and TA needs.
The results of the needs assessment showed that a quarter of STD-certified 340B clinics (25%) and about a third (38%) of public health laboratories were not billing either Medicaid or private third-party payers. Smaller clinics, Health Department STD clinics, and STD-only service sites were less likely to bill third-party payers than larger clinics, other site types, and those clinics providing integrated (STD and family planning) services.
Please visit the
STD TAC Region I Website
to access the
Full Report
,
Executive Summary
, or the
Webinar
presenting the findings. JSI/2014.