Publications
Impact Evaluation of the State Implementation Grants for Integrated Community Systems for Children with Special Health Needs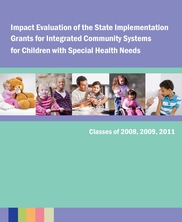 This report summarizes the first three cohorts of the Maternal Child Health Bureau's State Implementation Grant Program grantees' accomplishments.
Strategies that define the effective system of care for Integrated Community Systems for Children with Special Health Needs (CYSHCN) are organized by leadership and the six core outcomes: 1) Access to coordinated ongoing comprehensive care within a medical home; 2) Family/professional partnership at all levels of decision-making; 3) Access to adequate financing and private and/or public insurance to pay for needed services; 4) Early and continuous screening for special health needs; 5) Organization of community services for easy use; and, 6) Youth transition to adult health care, work and independence. Leadership is a function of an articulated strategic direction; broad-based, collaborative partnerships; commitment to quality improvement; and effective use of technologies and systems to support monitoring and program improvement.
JSI conducted an evaluation of the program in 28 states, the District of Columbia, and the Navajo Nation. Clemmons, Naomi; Friedrich, Susan; Segar, Hilary; Sprangers, Kara. JSI, 2013.
Download (PDF, 2.01 MB)