Publications
The Colorado Trust Environmental Scan - 2012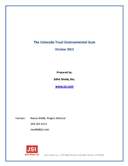 The mission of The Colorado Trust (The Trust) is to advance the health and well-being of the people of Colorado with a vision of achieving access to health for all Coloradans. With the passage of the ACA and the implementation of various facets of health care reform in Colorado, The Trust realized the opportunity to re-assess and re-focus its grant making direction, addressing health equity and concentrating on the needs of the most disadvantaged Coloradans.
The Trust has a long history of seeking guidance from the Colorado community to inform its grant making. In order to do so, The Trust conducts an environmental scan every ten years to better understand the demographic and health trends in Colorado as well as the health issues that resonate with individuals throughout the state.
JSI conducted the 2012 state-wide environmental scan to help determine future funding priorities. The final report presents JSI recommendations for future grant making priorities. JSI/2012.
Download (PDF, 588 KB)