Publications
"Solving Childhood Obesity One Community at a Time" in the Metrowest Health Foundation Blog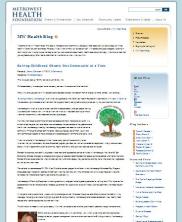 'Building a Healthy Northborough' is a Massachusetts initiative supported by the MetroWest Health Foundation in partnership with Mass in Motion, to find concrete ways to create an environment that supports healthy eating habits and physical activity for youth and their families. JSI provides technical assistance, strategic direction, program management, and evaluation services to the initiative.
The blog
Solving Childhood Obesity One Community at a Time
, written by JSI senior consultant Tammy Calise, discusses an effort to address the problem as part of a broad-based approach that looks at every dimension from individual behavior to community infrastructure to environmental and development policy.
Read the blog on
Solving Childhood Obesity One Community at a Time