Publications
Community Perspectives on Developing a Sexual Health Agenda for Gay and Bisexual Men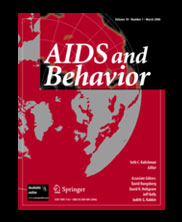 Community mobilization around gay rights in the late 1960s and 1970s led to the first efforts to improve the health of gay and bisexual men. In the 1980s the deadly AIDS epidemic was confronted with fierce organizing and community activism, primarily led by gay men.
Today, community involvement is crucial to many advocacy and organizing efforts for the health of gay and bisexual men. The purpose of this article is to demonstrate some of the ways that community mobilization has worked to improve gay men's health, to propose a national advocacy plan for promoting gay men's health in the near future, and to discuss the challenges and opportunities that lie ahead. The article begins with the roots of this history and then describes how they are reflected in a number of key health initiatives for this community. The path forward outlines the next steps for advocacy for gay men's health, in particular that of gay and bisexual men of color, emphasizing cultural viability, development of new leaders, and strategic alliances.
AIDS & Behavior
, Vol. 15, Supplement 1, 2011, Stewart Landers, Jim Pickett, Leo Rennie and Steve Wakefield.
Read the abstract on
Developing a Sexual Health Agenda for Gay and Bisexual Men