Publications
NH Immunization Program - K-8. Share Fun. Not the Flu.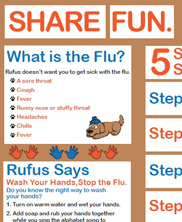 As part of the
Marketing the Immunization Message in NH
project, JSI is developing a multi-sector, multi-media, cohesive and comprehensive campaign and is working with stakeholders in non-traditional sectors to increase vaccination awareness, promote "community immunity", and increase immunization rates.
This document is a sample layout of the "Share Fun. Not the Flu" bulletin board, geared for K-8 students, to increase awareness of seasonal flu prevention activities. This bulletin board was part of a fall 2011 statewide contest where schools were encouraged to develop creative bulletin boards. Content entries were posted to the
campaign's Facebook page
, and winners were awarded gift cards to purchase supplies for their school.
Download (PDF, 1.88 MB)