Publications
Quick Reference Fact Sheet Community Preparedness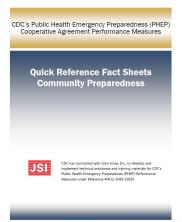 This document is a Quick Reference Guide for CDC's Public Health Emergency Preparedness (PHEP) Cooperative Agreement Performance Measures for Capability 1: Community Preparedness.
Four Community Preparedness Performance Measures are described including, Identification of Key Organizations, Community Engagement in Risk Identification, Community Engagement in Public Health Preparedness Activities, and Community Engagement in Recovery Planning.
Since 2008, JSI has been contracted by the Centers for Disease Control and Prevention (CDC), Office of Public Health Preparedness and Response (OPHPR) to provide training and technical assistance (TA) to the 62 state and territorial health departments and CDC staff on the collection and application of Public Health Emergency Preparedness (PHEP) performance measures.
Download (PDF, 309 KB)