Publications
Better and Faster: How Safety Net Providers Are Redesigning Care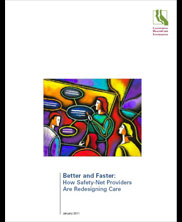 This issue brief highlights innovative management and process reengineering efforts that safety net providers throughout the United States are using to respond to the increasing demand for high-quality, low-cost comprehensive health care. The brief researches methodologies used to transform practices, including patient visit redesign, Lean, and Six Sigma, as well as other approaches to reshaping the clinical encounter and adding value for patients. Eslan, Alexia; Preheim, Callie, JSI Research & Training Institute, Institute, Inc. 2011.
Download the issue brief
Better and Faster: How Safety-Net Providers Are Redesigning Care
on the CHCF website.