Publications
Mobilizing Local Support for Immunization: Experience from Uganda and Ethiopia in engaging local stakeholders and leaders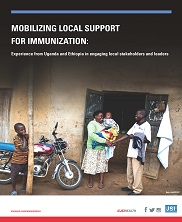 Protecting each year's cohort of children and other beneficiaries from vaccine-preventable diseases requires more than vaccines. Routine immunization programs are comprised of several program elements, each with associated operational costs, such as transport to distribute vaccines, conduct outreach sessions, and provide supportive supervision; printing of supplies of data management tools, and fuel to run cold chain equipment. While vaccines and refrigerators are often funded from national budgets, it is often subnational level civil authorities and political leaders who decide on resource allocations to cover the operational costs. Collectively referred to as "non-health stakeholders," these influential leaders have a key role to play in supporting immunization.
This brief outlines JSI's experience in Uganda and Ethiopia to strengthen subnational level teamwork between the health personnel typically responsible for immunization and the non-health stakeholders who are in a position to support it.
Experience from these countries demonstrates that effective engagement of civil authorities and local political and community leaders is both feasible and productive. It mobilizes resources for immunization, raises its profile and perceived value, enhances ownership, and stimulates context-appropriate innovations. Continuous engagement and a shared commitment from different actors, both within and beyond the health system, are critical to ensuring that all children, every year, are protected from vaccine-preventable diseases.
Download (PDF, 3.45 MB)