Publications
Polio Eradication through Community Approaches - MCSP's Role in Eradicating Polio in Madagascar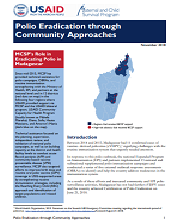 Between 2014 and 2015, Madagascar had 11 confirmed cases of vaccine-derived poliovirus, signifying challenges with the routine immunization system that urgently needed attention.
In response to this outbreak, the national Expanded Program on Immunization and partners implemented 13 national and sub-national supplemental polio immunization campaigns and conducted a series of five external outbreak response assessments to identify and help the country address weaknesses in the immunization system.
As a result of these efforts and increased community and EPI polio surveillance activities, Madagascar has not had further polio cases and the country achieved Certification of Polio Eradication on June 21, 2018. This brief outlines the polio eradication approach and lessons learned in-country. JSI, Maternal and Child Survival Program. 2018.
Download (PDF, 1.24 MB)