Publications
Promoting Good Data Through a Data Competition in Mali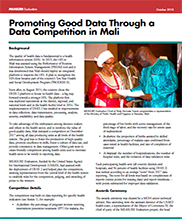 The quality of health data is fundamental to a health information system (HIS).
In 2013, the HIS in Mali was assessed using the Performance of Routine Information System Management (PRISM) tool and it was determined that Mali should deploy an integrated platform to improve the HIS. In August 2015, the country chose the DHIS 2 platform to house its health data—a big step forward toward a stronger HIS. The MEASURE Evaluation project assisted with the deployment of DHIS 2 and helped plan a competition, to take advantage of the enthusiasm among decision makers and others in the health sector, and to reinforce the value of good-quality data.
This brief highlights the process and results of the competition on data reporting for specific health indicators. JSI/MEASURE Evaluation. 2018.
Download (PDF, 1.41 MB)