Publications
Home-based Records Country Learning: Improving Urban Immunization with Child Health Cards in the DR Congo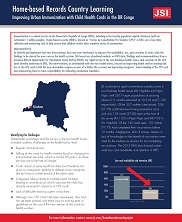 Immunization is a valued service in the Democratic Republic of Congo (DRC), including in the heavily populated capital, Kinshasa. Home-based records (HBRs), known as "Cartes de Consultation Pre-Scolaire (CPS)" in DRC, are a key data collection and monitoring tool to help ensure that children receive their complete series of vaccinations.
The objective of the HBR project was to identify and implement low-cost interventions to improve the availability, use, and retention of cards, with the findings to be shared for users across the health system.
JSI based our situational analysis on DHS data, findings and recommendations from a previous missed opportunity for vaccination study (led by WHO), our rapid survey in the two Kinshasa health zones, and revisions of the cards already underway in DRC. JSI interventions focused on improving health worker training and use of the home-based record cards (with new detachable coupons as part of a tickler file system) and improving caregivers' understanding of the cards and empowering them to take responsibility for following vaccination schedules. JSI, 2018.
Download (PDF, 216 KB)
Download French Version (PDF, 218 KB)