Publications
Home-based Records Country Learning: Card Redesign for Improving Immunization Tracking in Benin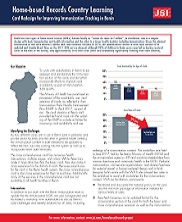 Benin has two types of home-based records (HBRs), known locally as "carnet de sante de l'enfant", in circulation: one is a simpler design with basic immunization and health information and the other is a larger health booklet, including immunization.
This 2-page brief highlights the approach and process of redesigning, updating, and standardizing home-based records cards in Benin, given the planned introduction of two dose measles/rubella (MR) and rotavirus vaccines in 2018.
The objective of the HBR project in Benin was to work with stakeholders in Benin to (a) redesign and standardize the immunization section of the cards and (b) further incorporate efforts to improve card availability as part of immunization data quality. JSI, 2018.
Download (PDF, 427 KB)
Download French Version (PDF, 863 KB)