Publications
Strategies for Strengthening Vaccination Programs in Poor Urban Settings: Lessons Learned and Recommendations for Cité Soleil, Haiti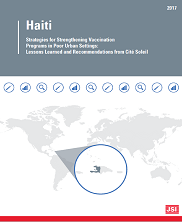 The Cité Soleil health zone is a very poor urban commune located within Haiti's Port au Prince metropolitan city. Based on data collected from a situational analysis of Cité Soleil, the commune's vaccination system faces several significant challenges specific to or exacerbated by the urban environment. A number of strategies and activities were designed, and an implementation plan and budget were developed in order to pilot the implementation of these strategies in Cité Soleil.
This report highlights in depth the steps needed to follow to increase vaccine coverage in Cité Soleil. This document also explores the lessons learned and recommendations for engaging stakeholders based on the Gavi-funded Technical Assistance to Urban Immunization Programs in Haiti.
Folake Olayinka, Michel Othepa, Heather Casciato, JSI Research & Training Institute, Inc. 2017.
Download (PDF, 703 KB)
Download French Version (PDF, 710 KB)