Publications
Vaccines For All Improving Routine Immunization in Sindh Province Using A Health Systems-based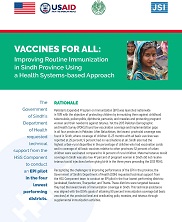 Recognizing the challenges to improving the performance of the Expanded Program on Immunization (EPI) in the province, the Government of Sindh's Department of Health (DOH) requested technical support from the Health Systems Strengthening Component of USAID's Maternal and Child Health program team to conduct an EPI pilot in the four lowest performing districts: Jacobabad, Kashmore, Tharparkar, and Thatta.
The HSS Component developed mechanisms to improve recording, reporting, monitoring, and supervision to ensure transparency and accountability. The HSS Component oriented vaccinators and their supervisors, provided motorcycles to improve EPI service delivery, and registered all pregnant women and children under the age of two. Central to the approach was the development of micro-plans and a supervisory system to ensure successful implementation.
The HSS Component improved quality EPI service delivery by training vaccinators and supervisors in the proper handling of vaccines and methods for maintaining cold chain systems for vaccine storage. In parallel, community outreach was conducted to create awareness of and dispel myths about vaccinating children. JSI, 2017.
Download (PDF, 7.25 MB)