Publications
SPRING: Enplane Survey Results of Nutrition Assessment, Counseling, and Support (NACS) Services in Health Facilities Supported by SPRING/Uganda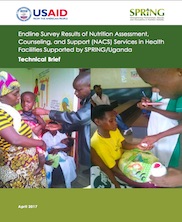 In Uganda, the SPRING project's primary goal was to contribute to the reduction of stunting and anemia in children and women of childbearing age. The project provided technical assistance and leadership at the national level to implement activities and policies related to large-scale food fortification—via industrial fortification and micronutrient powders—to address stunting and micronutrient deficiencies, prevention and control of anemia through multisectoral coordination, and social and behavior change communication (SBCC) for nutrition.
This technical brief presents the endline survey results which looked at the status of nutrition assessment, counseling, and support (NACS) services in 50 health facilities in 10 districts supported by SPRING/Uganda. The majority (84 percent) of the health facilities were government owned. The brief examines NACS programming, appropriateness, relevance, effectiveness, and sustainability of interventions in supported health facilities, and documents key lessons learned and best practices.
JSI/The Strengthening Partnerships, Results, and Innovations in Nutrition Globally (SPRING) project. 2017.
Download (PDF, 511 KB)