Publications
SPRING: The Women's Empowerment in Agriculture Index Results from SPRING/Bangladesh's Farmer Nutrition Schools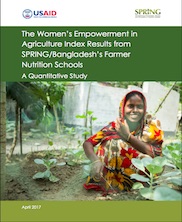 SSPRING/Bangladesh implements a multichannel integrated approach to tackling malnutrition along the nation's coastal belt using both nutrition-specific and nutrition-sensitive interventions.
With the Essential Nutrition Actions and Essential Hygiene Actions (ENA/EHA) as the technical foundation of its work, SPRING/Bangladesh has developed a variety of interventions, grounded in existing evidence-based approaches, to tackle malnutrition, with a particular focus on the first 1,000 days.
SPRING targets pregnant and lactating women and their children as the primary audience, while also working with husbands and other family and community members. After several years of implementation, the SPRING team noticed that women who had participated in SPRING's program—particularly those who had participated in its Farmer Nutrition School (FNS) activity— seemed more confident, more in control of their family's health and diet, and better linked to the government extension system.
The goal of the research was to measure empowerment among FNS beneficiaries compared to women not participating in FNS activities. The project wanted to better understand differences in male and female beneficiaries' involvement in daily household activities such as farming, work, leisure, decision making, access to resources, and related topics. It also sought to better understand the level of women's empowerment in agricultural activities and other aspects of family life.
This paper highlights the study's methodology and findings as well as conclusions and recommendations. JSI/Strengthening Partnerships, Results, and Innovations in Nutrition Globally (SPRING) project. 2017.
Download (PDF, 1.73 MB)