Publications
SPRING: Assessment of SPRING-supported Implementation of Infant and Young Child Feeding in Nigeria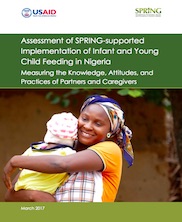 Undernutrition affects all income levels and geographic zones of Nigeria. In the 2013 Demographic and Health Survey in Nigeria, 37 percent of children under 5 years old were stunted, 29 percent were underweight, and 18 percent were wasted (National Population Commission and ICF International 2014). Stunting, or low height for age, is a result of chronic undernutrition during the 1,000-day period from pregnancy until age two. Effects of stunting include delayed cognitive, socio-emotional, and motor development; poor school performance; and lower adult productivity. If not addressed during the 1,000- day window, these effects are often irreversible.
Between 2012 and 2016, the SPRING project scaled up the implementation of the Community Infant and Young Child Feeding (C-IYCF) Counselling Package in Nigeria, ultimately reaching 112,208 caregivers across 122 local government areas in 16 states.
This assessment was designed to measure the knowledge and attitudes of those trained (CSOs, health workers, and community volunteers) on C-IYCF, and to understand to what extent that knowledge was transferred and translated into attitudes and practices of the support group members, those caregivers who were the main beneficiaries of our work. JSI/SPRING Project, 2017.
Download (PDF, 855 KB)