Publications
Quantification of Health Commodities: DMPA-SC Companion Guide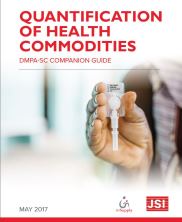 This quantification guide specific to subcutaneous DMPA (DMPA-SC), a new injectable contraceptive, aims to help family planning program managers, supply chain/logistics managers, and procurement officers confront the significant challenges in estimating and planning for commodity needs as programs introduce and integrate provision of DMPA-SC.
Available in English and French.
Please refer to the JSI publication
Quantification of Health Commodities: Forecasting and Supply Planning for Procurement
for general guidance on quantification.
Download (PDF, 3.72 MB)
Download French Version (PDF, 3.70 MB)