Publications
Scaling-up the use of sulfadoxine-pyrimethamine for the preventive treatment of malaria in pregnancy: results and lessons on scalability, costs and programme impact from three local government areas in Sokoto State, Nigeria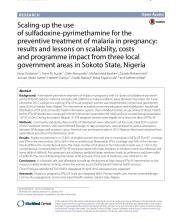 Intermittent preventive treatment of malaria in pregnancy with 3+ doses of sulfadoxine-pyrimethamine (IPTp-SP) reduces maternal mortality and stillbirths in malaria endemic areas. Between December 2014 and December 2015, a project to scale up IPTp-SP to all pregnant women was implemented in three local government areas (LGA) of Sokoto State, Nigeria. The intervention included community education, and mobilization, household distribution of SP, and community health information systems that reminded mothers of upcoming SP doses. Health facility IPTp-SP distribution continued in three intervention (population 661,606) and one counterfactual (population 167,971) LGAs. During the project lifespan, 31,493 pregnant women were eligible for at least one dose of IPTp-SP.
The author's concluded that it is feasible, safe, and affordable to scale up the delivery of high impact IPTp-SP interventions in low-resource malaria endemic settings, where few women access facility-based maternal health services.
Authors: Nosa Orobaton, Anne Austin, Dele Abegunde, Mohammed Ibrahim, Zainab Mohammed, Jumare Abdul-Azeez, Hakeem Ganiyu, Zwalle Nanbol, Bolaji Fabohunda and Katherine Beal.
Download (PDF, 2.88 MB)