Publications
Barcodes and Document Identifiers to Track and Authenticate Official Documents in the Ethiopian Healthcare Supply Chain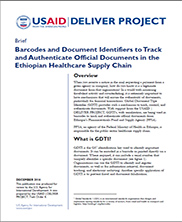 In a world with increasing fraudulent activity and counterfeiting, it is extremely important to have mechanisms that will ensure the authenticity of documents, particularly for financial transactions. Global Document Type Identifier (GDTI) provides such a mechanism to track, control, and authenticate documents.
This brief outlines how JSI's USAID | DELIVER Project supported the roll out of GDTI's with serialization in barcodes to track and authenticate official documents from Ethiopia's Pharmaceutical Fund and Supply Agency (PFSA)—an agency of the Federal Ministry of Health in Ethiopia that is responsible for the public sector healthcare supply chain.
JSI/ USAID | DELIVER PROJECT, 2016.
Download (PDF, 243 KB)