Publications
Quantification of Health Commodities: Laboratory Commodities Companion Guide-Forecasting Consumption of Laboratory Commodities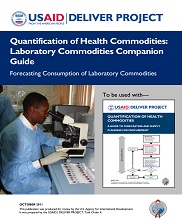 The primary focus and purpose of this companion guide is to supplement the general guide,
Quantification of Health Commodities: A Guide to Forecasting and Supply Planning for Procurement
, by describing, in detail, the specific methodology for forecasting consumption of laboratory commodities as a critical step in the overall quantification process. The extensive nature of testing schedules, the variety of equipment and associated reagents and consumables, and the varying characteristics of each of those products pose particular challenges in the management of laboratory commodity supply chains. JSI/DELIVER Project 2011.
Download (PDF, 992 KB)