Publications
Logistics Outsourcing and Contract Management in Public Health Settings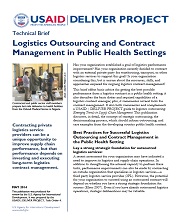 This technical brief offers basic advice for getting the best possible performance from a logistics contract in a public health setting; it also describes the basic duties and required capabilities of a logistics contract manager; plus, it summarizes several tools for contract management.
This document both summarizes and complements a USAID | DELIVER PROJECT guide to logistics outsourcing,
Emerging Trends in Supply Chain Management
. JSI / USAID | DELIVER PROJECT, 2014.
Download (PDF, 330 KB)