Publications
Evaluation of the Zimbabwe Assisted Pull System (ZAPS): Baseline Report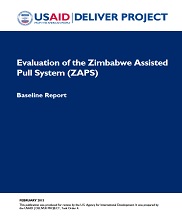 This report provides results from the baseline measurement for the evaluation of the Zimbabwe Assisted Pull System (ZAPS).
The ZAPS, which was piloted in Manicaland Province, consolidates management of four existing health commodity distribution systems for the primary health care facility level: Delivery Team Topping Up (DTTU); Zimbabwe Informed Push/Primary Health Care Package (ZIP/PHCP); Zimbabwe ARV Distribution System (ZADS); and Essential Medicines Pull System (EMPS).
For the hospital level, the ZAPS consolidates the DTTU and the malaria and tuberculosis portions of the ZIP/PHCP while the ZADS and EMPS continue to operate as separate systems. The evaluation compares performance and costs of the ZAPS with these existing distribution systems. Results from this evaluation will feed into the decision on whether to expand the ZAPS model from Manicaland to the rest of Zimbabwe. JSI / USAID | DELIVER PROJECT, 2015.
Download (PDF, 1.24 MB)