Publications
Annual Progress Report October 2014–September 2015, USAID | MCH Program: Component 4, Health Commodities and Supply Chain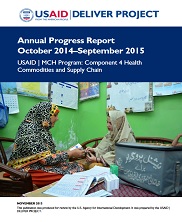 This annual progress report describes the work of the USAID | DELIVER PROJECT in Pakistan. Component 4—Health Commodities and Supply Chain, under the USAID Maternal and Child Health (MCH) program, implemented by the USAID | DELIVER PROJECT—includes technical assistance to the health- and population-sector for sustainable strengthening of logistics and supply chain management systems for the Government of Pakistan (GOP). This component focuses on the contraceptive and vaccine supply chains for the public sector, with procurement assistance to U.S. Government (USG)–financed health commodities.
The project includes a comprehensive package of software and hardware technical assistance for the sustainable strengthening of supply chain and logistics systems for the public sector, as well as partial contraceptive commodity security for social marketing and nongovernmental organizations. During four years of technical assistance (2010–2014), all major stakeholders began reporting family planning performance on a single reporting platform—the logistics management information system (LMIS).
Managed by John Snow, Inc., and funded by the U.S. Agency for International Development (USAID), the report highlights progress in the three main objectives of the project: to improve and strengthen in-country supply chains, strengthen environments for commodity security, and to increase knowledge management and dissemination. JSI, 2015.
Download (PDF, 1.45 MB)