Publications
Sustaining Family Planning and Maternal and Child Health Services in Georgia (USAID | SUSTAIN) Final Project Report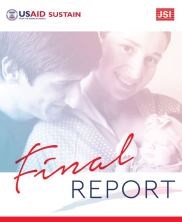 This is the final report of the USAID-funded SUSTAIN project, which was implemented by John Snow, Inc. (JSI) and ran from 2009 to 2015. It is future looking and focuses on how project activities have contributed to the recent transformation of the Georgian health sector. Few countries transformed so rapidly, and many countries could learn from Georgia's process and results. The government of Georgia changed hands halfway through the project in January 2013. This was accompanied by significant changes in health sector policies and strategies, particularly the adoption of universal health coverage, which required rapid adaptation by SUSTAIN. Thus the story of SUSTAIN unfolds in three phases: the original project scope and activities (2009-2012); adaptation of new health priorities (2012-2014); and a final push for quality and organization of health services, accreditation, and sustainability (2015). The overall goal of improving women's health, quality of care, and equity never changed.
A lot remains to be done if Georgia is to achieve its near-term goal of meeting the European Union Association requirements in health and its long-term goal of a strong and healthy population with high-quality health care. This report documents the SUSTAIN project's many contributions, and notes areas which remain to be done in the future. JSI/SUSTAIN 2015
"Stories of Transformation from Georgia"
offers a closer look at some of the women and families who received higher-quality, more respectful care through the efforts of the SUSTAIN project.
Download (PDF, 8.76 MB)