Publications
Early Warning System for Contraceptives in West and Central Africa Improves Supply Availability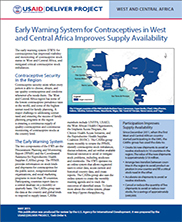 The early warning system (EWS) for contraceptives has improved visibility and monitoring of contraceptive stock status in West and Central Africa, and mitigated critical contraceptive stock imbalances. This briefer highlights the approach that JSI's USAID | DELIVER PROJECT used to in 13 West African target countries and a total of 20 programs had submitted quality data for review by the Coordinated Assistance for Reproductive Health Supplies (CARhs) group.
Since December 2011, when the first West and Central African country started participating in the EWS, the CARhs group has used the data to:
Create 56 new shipments to avoid or resolve stockouts in 10 countries in the region. The value of the new shipments is approximately $7.8 million.

Arrange two transfers between countries in the region to avoid product expiration in one country and fill a critical stock need in the other.

Accelerate six shipments to avoid or resolve stockouts.

Cancel or reduce the quantity of five shipments to avoid or reduce overstocks, for a savings of approximately $440,000.
JSI, USAID | DELIVER PROJECT, 2015.