Publications
Tuberculosis Laboratory Logistics Assessment--Phases I and II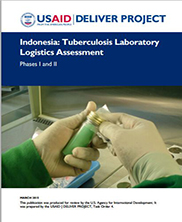 Indonesia, one of the highest tuberculosis (TB)-burdened countries in the world, has approximately 297 cases per 100,000 population; approximately 2 percent of these cases are multidrug-resistant TB (MDR).
Between August 2013 and February 2014, JSI, through the USAID | DELIVER PROJECT, with support from the National TB Program, the Ministry of Health, and TB CARE, conducted a two phased tuberculosis laboratory logistics assessment of the Indonesia National TB Program.
The assessment focused on the performance and availability of cold chain equipment at collection and retrieval sites, and during transport. It also looked at waste management practices, the availability of guidance (i.e., SOPs) on cold chain management, and laboratory logistics system management. This report presents the findings of the assessment as well as recommendations to strengthen the TB lab logistics systems. JSI / USAID|DELIVER PROJECT, 2015.
Download (PDF, 780 KB)