Publications
Assessment of the Integrated Logistics Management Information System: Review of the Processes and Software Tools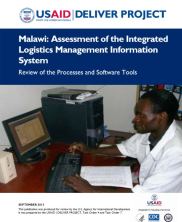 Effective supply chains are driven by accurate and timely logistics data that is related to demand, inventory, and pipeline information. Without quality logistics data, supply systems are more likely to have problems, such as stockouts, which makes the system unresponsive to health facility and patient needs. To address these issues in Malawi, a plan of action to assess, redesign, and strengthen the MOH's Logistics Management Information System (LMIS).
This report documents the first activity in the plan of action developed jointly between the MOH's Health Technical Services and Support (HTTS) unit and the USAID | DELIVER PROJECT. In February 2013, the project and HTSS assessed the existing LMIS design features, processes, and technology solutions to determine strengths and weaknesses. The assessment involved key informant interviews at the national and district levels, site visits to select districts and health facilities, and stakeholder workshops on February 8 (focused on LMIS technology solutions) and February 18–19, (focused on LMIS processes and performance).
The key findings from the assessment showed that the LMIS has some important strengths, as well as critical weaknesses related to data collection, management, and use. It is also significantly constrained by factors external to the data or the LMIS design, such as funding and human resource capacity limitations. The evaluators developed recommendations after extensive consultation with and participation of stakeholders.
Download (PDF, 484 KB)