Publications
Malawi: Turning System Support into System Strengthening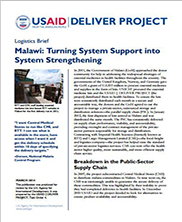 In 2011, the Government of Malawi (GoM) approached the donor community for help in addressing the widespread shortages of essential medicines and received a grant of U.S.$33 million to procure essential medicines and supplies in the form of kits. To ensure the kits were consistently distributed each month in a secure and accountable way, the donors and the GoM agreed to use the project to manage a private-sector, outsourced storage and distribution solution—the parallel supply chain (PSC).
In January 2012, the first shipment of kits arrived in Malawi and was distributed the same month. The PSC has consistently delivered on supply chain performance, visibility, and accountability, providing oversight and contract management of the private sector partners responsible for storage and distribution.
This logistics brief highlights how the standard of private-sector logistics services has been raised. CML can now offer the health sector higher quality, more sustainable, and more efficient supply chain service. JSI / USAID|DELIVER PROJECT, 2014.
Download (PDF, 638 KB)