Publications
Nigeria Direct Delivery and Information Capture Activities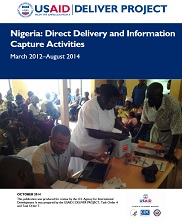 In 2013, the USAID | DELIVER PROJECT implemented a vendor-managed inventory system of distributing health commodities to public sector health facilities in two states in Nigeria. This system, the Direct Delivery and Information Capture (DDIC) system was modeled after the Delivery Team Topping Up system (DTTU) implemented in Zimbabwe by the project since 2003.
The Direct Delivery and Information Capture was piloted in Bauchi and Ebonyi states, as a last mile delivery option in a resource limited setting, in terms of reduced human and transport capacity, limited or no stock availability and low-data visibility for decision making.
In the Nigerian context, the DDIC system was used to distribute family planning, maternal, neonatal and child health (MNCH) and malaria commodities. The collection of logistics data from the service delivery points is concurrent with commodity replenishment and is automated, using the Auto DRV software.
This report looks at implementation of the DDIC between March 2012-August 2014. After a year, two additional states, Sokoto and Zamfara implemented the DDIC system. After the pilot phase of the DDIC, a cost evaluation study was conducted in 5 states in Nigeria where the DDIC system was compared to review and re-supply, review and direct delivery and information capture and direct delivery models of last mile distribution. Stock out rates, start up and operating costs, scalability, and data quality of each last mile delivery option were compared to the DDIC system. JSI, 2014.
Download (PDF, 2.35 MB)