Publications
Timor-Leste Asistensia Integradu Saude II (TAIS-II) Final Project Report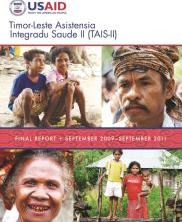 Timor-Leste is one of the world's newest sovereign nations. Its tumultuous independence was marred by destruction and conflict. In 2003, Timor-Leste's under-five mortality rate was estimated at 83 deaths per 1,000 live births and neonatal mortality at 33 deaths per 1,000 live births. Despite improvements in the under-five, infant, and neonatal mortality rates, as shown in the 2009-2010 Timor-Leste Demographic and Health Survey (TLDHS)2, continued effort and progress is needed (see Figure 1) Timor-Leste has the second-highest national undernutrition rates in the Asia Pacific region. Approximately half of children under-five are underweight. This figure did not change between the 2003 DHS and 2009-2010 TL-DHS.
The Timor-Leste Asistensia Integradu Saude II (TAIS II), and extension of the TAIS project, ran from 2009-2011. TAIS II implementation was guided by a three-pronged strategic approach:
--Improve national child health and nutrition policies and practices by strengthening the capacity and skills of MOH personnel, supporting policy development and dissemination, and assisting in the creation of a culture of data use that permeates all levels of the system.
--Strengthen district-level child health services by improving providers' skills through supervision, on-the-job training, and mentoring, and improving links between health facilities, health workers, and communities.
--Increase community access to and engagement in quality services by promoting practical, participatory approaches to facilitate greater community involvement and buy-in of key health messages and practices.
The final project report contains information about program strategy, key implementation activities, project results, and lessons learned. JSI, TAIS II, 2011
Download (PDF, 19.33 MB)