Publications
Nigeria: Using the Native Language to Achieve Equitable Access to Contraceptives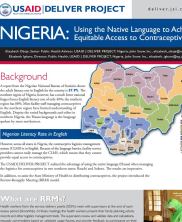 In Nigeria, the USAID | DELIVER PROJECT is working to overcome obstacles to the public health supply chain by fostering coordination across and between health system levels and promoting the use of the local language in management of the supply chain. DELIVER's Elizabeth Obaje, Senior Technical Advisor, and Onosi Ifesemen, Logistics Advisor presented this work at the 2015 World Congress on Public Health, held in Kolkata, India. Their poster presentations are now available online to view and download:
Nigeria: Using the Native Language to Achieve Equitable Access to Contraceptives
presents the positive results of using the native language (Hausa) when managing logistics for contraceptives in two northern states: Bauchi and Sokoto. JSI/DELIVER Project, 2015.
Download (PDF, 2.13 MB)