Publications
Characteristics of Pediatric Medicines - The Supply Chain Perspective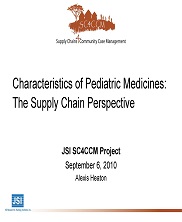 Supply Chains for Community Case Management (SC4CCM) is a learning project that identifies proven, simple, affordable solution to address the unique supply chain challenges of community health workers (CHWs). Working with government community case management (CCM) initiatives in Ethiopia, Malawi, and Rwanda, over 12-24 months SC4CCM tested supply chain interventions to improve access to medicines so CHWs can treat common childhood illnesses like pneumonia, malaria, diarrhea, and malnutrition. SC4CCM works with Ministries of Health (MOH) and partners to scale up and institutionalize proven interventions.
In the context of community health, special consideration must be given to how supplying communities with pediatric medicines is different from supplying hospitals or other health facilities. This presentation explains why it is essential to account for the local conditions and volumes of use by the community health workers when considering product distribution, storage, packing, and inventory management.
This information can be useful for project managers and in-country stakeholders looking to implement other projects to improve supply chain practices in rural communities. SC4CCM/JSI, 2010.
Download (PDF, 660 KB)