Publications
Training Health Extension Workers in the Integrated Pharmaceutical Logistics System (IPLS)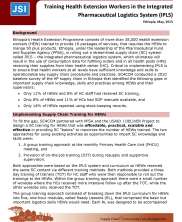 Ethiopia's Health Extension Programme consists of more than 38,000 health extension workers (HEW) trained to provide 16 packages of services, that requires the HEWs to mange 50 plus products.
SC4CCM
conducted a 2010 baseline survey of the health post supply chain in Ethiopia that identified gaps in important supply chain knowledge, skills and practices among HEWs and their supervisors. Ethiopia, under the leadership of the Pharmaceutical Fund and Supplies Agency (PFSA), is rolling out a streamlined supply chain (SC) system called IPLS – the integrated pharmaceutical logistics system, which ultimately will result in the use of consumption data for fulfilling orders and in all health posts (HPs) receiving their supplies from their health center (HC). Critical to implementing IPLS is to ensure that health workers at all levels have sufficient knowledge and skills to operationalize key supply chain procedures and practices.
This report outlines SC4CCM's approach to implementing supply chain training for health extension workers, measuring training rollout and effectiveness, and translating evidence into improved supply chain practice.
SC4CCM
has assisted in updating curriculum and training activities to reflect its experience during the intervention period.