Publications
Improving Injection Safety and Health Care Waste Management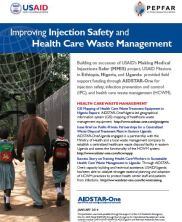 Building on successes of USAID's Making Medical Injections Safer (MMIS) project, USAID Missions in Ethiopia, Nigeria, and Uganda provided field support funding through JSI-managed,
AIDSTAR-One
for injection safety, infection prevention and control (IPC), and
health care waste management
(HCWM). AIDSTAR-One, 2014.
Make sure to click links throughout the document to learn more about
Improving Injection Safety and Health Care Waste Management.
Download (PDF, 1.68 MB)