Publications
USAID/Focus Region Health Project (FRHP) Technical Brief Series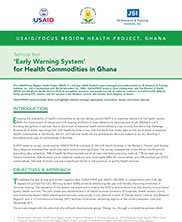 These technical briefs share and highlight selected strategic approaches, innovations, results, and lessons learned from the USAID/Focus Region Health Project (FRHP) over 4.5 years of implementation.
Technical Brief Topics include:
Early Warning System (EWS)
Improving Ghana Health Services' Capacity in Financial Management
Long-Acting and Permanent Methods (LAPM) for Family Planning
Leadership Development Program
Improving Monitoring and Supervision of Malaria Activities through mHealth
Improving Maternal, Newborn, and Child Health
Performance-Based Financing (PBF)
Supply Chain Management of Public Sector Health Commodities
The project was managed by JSI Research & Training Institute, Inc. (JSI) in partnership with World Education Inc. (WEI). USAID/FRHP worked in close collaboration with the Ministry of Health (MOH) and the Ghana Health Service (GHS) to strengthen access, quality, and use of maternal, newborn, and child health (MNCH), family planning (FP), and malaria in the Western, Central, and Greater Accra Regions, with HIV programming in Eastern and Ashanti Regions. JSI/2014.
Download (PDF, 2.27 MB)