Publications
Family Planning Goes Social: Using social media to create, connect, and come together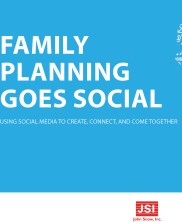 Increasingly, online communication via social media is reshaping the way we deliver health information as well as the expectations of how information is received. Nearly 1 in 4 people worldwide use online social networks, most of which is driven by mobile access. Many of them are going online to research health questions or find support from a community.
This toolkit aims to help people working in the field of family planning better understand the major social media tools and networks available and how they can be used strategically to advance program goals and increase visibility/awareness among target audiences.
The toolkit was adapted from the 2011 tool,
HIV Prevention goes Social
, developed for the National AIDS Minority Council (NMAC) by JSI. This family planning workbook was developed for the 2013 International Conference on Family Planning. JSI, 2013.
Download (PDF, 2.41 MB)