Publications
Ghana Urban Malaria Study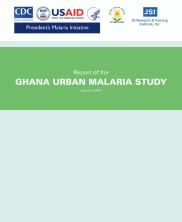 The Ghana Urban Malaria Study highlights the epidemiological burden of malaria in urban settings in Ghana. The report is designed to help inform policy making, public health programming, and health practice related to urban malaria in Ghana.
The study was undertaken by the USAID Focus Region Health Project (USAID|FRHP), in collaboration with the U.S. President's Malaria Initiative (PMI), the Ghana Health Service/ National Malaria Control Programme (NMCP), and the University of Ghana School of Public Health.
Among other things, the study found that the burden of malaria is significantly lower in Accra, Kumasi and Tamale than in smaller communities located in the same ecological zone, but that malaria transmission and the prevalence of malaria parasitemia vary greatly between neighborhoods.
USAID/FRHP works closely with the Ministry of Health and the Ghana Health Service as well as the private sector to strengthen access to and use of quality maternal, newborn and child health, family planning, malaria, and HIV prevention and treatment services in the Greater Accra, Central, Western, Eastern, and Ashanti Regions of Ghana. JSI/USAID|Focus Regions Health Project, 2013.
For an brief overview of the study and its finidings, read
"Urban Malaria in Ghana: Key Findings from a Study"
Download (PDF, 4.29 MB)