Publications
Follow the Money: Tracking Contraceptive Finances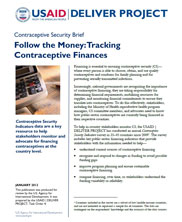 How can you help country stakeholders better monitor contraceptive financing in order to improve contraceptive availability?
Follow the Money: Tracking Contraceptive Finances, a new brief by the USAID | DELIVER PROJECT, describes how the annual Contraceptive Security Indicators survey can provide stakeholders with the information they need to make critical decisions related to contraceptive security.
Increasingly, national governments are recognizing the importance of contraceptive financing; they are taking responsibility for determining financial requirements, mobilizing resources for supplies, and monitoring financial commitments to ensure they translate into contraceptives. To do this effectively, stakeholders, including the Ministry of Health reproductive health program managers, CS committee members, and advocates need to know how public-sector contraceptives are currently being financed in their respective countries.
The project has conducted the survey in 35-45 countries since 2009. JSI/USAID|DELIVER PROJECT, 2013.
Download (PDF, 613 KB)