Publications
NuPITA - Building NGO Capacity Using the Organizational Capacity Assessment (OCA) Tool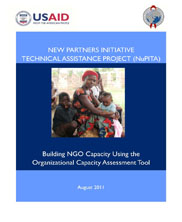 The public health sectors in many developing countries are challenged by the AIDS pandemic. In an effort to broaden the pool of nongovernmental organizations (NGOs) that can offer high-quality HIV services, the PEPFAR-funded New Partners Initiative (NPI) was established. NPI provides funding for organizations new to USAID support, combined with technical assistance, provided by JSI and partner, Initiatives, Inc., to build the capacity of these local partners along with the new resources, and to help them comply with USAID requirements. With greater resources and strengthened capacity, NGOs are able to implement high quality HIV services and, over time, to become sustainable contributors to national HIV and AIDS strategies.
The NuPITA project build both organizational management capacity as well as technical capacity to deliver HIV services. This document provides an overview of the Organizational Capacity Assessment (OCA) tool, which presented standardized criteria to assess an organization's management capacity to implement quality programs. Management areas assessed range from financial to human resources. The tools are used to identify NGO organizational components that work well and those that may need strengthening.
This monograph highlights individual NPI partner experiences and results from the OCA process. John Snow, Inc., 2011.
Download (PDF, 872 KB)