Publications
For male circumcision, analysis shows advantages in cost and logistics of disposable kits compared to reusable kits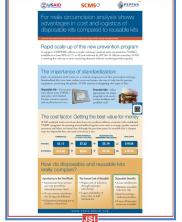 Voluntary medical male circumcision (VMMC) reduces the risk of HIV infection for men by as much as 60%. To support PEPFAR VMMC programs, SCMS provides disposable and reusable male circumcision kits. A VMMC technical working group, with representatives of PEPFAR, WHO and other partners, carefully selected the components of each kit. Disposable kits were designed for remote and outreach sites where most VMMC takes place. Reusable kits were intended for major hospitals with sterilization facilities. The impact on the patient and amount of infectious waste resulting from each kit are smaller. Therefore, cost and logistics may be the deciding factor between the two kits.
Methods: Using data from two southern African countries with established VMMC programs, SCMS con-ducted a cost analysis that included several hidden logistics costs, such as storage, quality control/assurance and labor.
View poster for Results and Conclusions. JSI/SCMS, 2012
Poster presented at the 2012 International AIDS Conference by Juan Jaramillo.
Download (PDF, 798 KB)