Publications
Are all fishing communities a most-at-risk population (MARP) for HIV infection?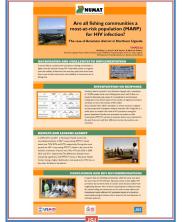 In several African countries, HIV prevalence in fishing communities is higher than the national average. HIV vulnerability seems to originate from the mobility of fishermen, the time they spend away from home, their access to daily cash income and availability of commercial sex in fishing sites.
Amolatar district, located in rural Northern Uganda with a population of 125,000 people, hosts several fishing sites; nearly half of them are located in Namasale sub-county. It is considered to be the busiest trading hub in the district, based on the number of registered members and boats as well as the amount of fish traded.
Since antenatal clinic (ANC) attendance is almost universal in Uganda and the proportion of pregnant mothers tested for HIV is high, this is a useful proxy to monitor the trend of HIV prevalence among the general population. The JSI-managed Northern Uganda Malaria, AIDS, and Tuberculosis (NUMAT) Programme collected results from prevention of mother-to-child transmission (PMTCT) activities in Amolatar district for the past three years and examined their differences across sub-counties.
Poster presented at the 2012 International AIDS Conference by Andrew Ocero. JSI/NUMAT, 2012.
Download (PDF, 1.26 MB)