Publications
SCMS In Brief: Zimbabwe Logistics Sub Unit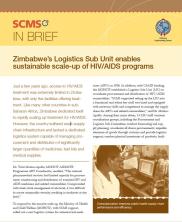 Just a few years ago, access to HIV/AIDS treatment was extremely limited in Zimbabwe, with only five facilities offering treatment.
Like many other countries in sub-Saharan Africa, Zimbabwe dedicated itself to rapidly scaling up treatment for HIV/AIDS. However, the country suffered weak supply chain infrastructure and lacked a dedicated logistics system capable of managing procurement and distribution of significantly larger quantities of medicines, test kits and medical supplies. To respond to the massive scale-up, the Ministry of Health and Child Welfare (MOHCW), with support from the JSI-managed Supply Chain Management System project, rolled out a new logistics system for antiretroviral medicines.
This brief outlines the process and results of the SCMS-assisted scale-up of Zimbabwe's logistics system.
Download (PDF, 1.09 MB)