Publications
Introduction to Roma Culture: Exploring Cultural Diversity for Family Doctors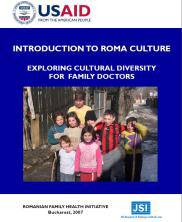 As a result of the cooperation between Romanian and international bodies (including JSI Research & Training Institute, Inc.), two research initiatives concerning the state of reproductive health were conducted for the Romanian population as a whole as well as for individual ethnic groups, including Roma (A Survey on Reproductive Health in Romania 1999 and 2004). The analysis of these data contributed to establishing priorities in the field of reproductive health and family planning. In November 2001, this context informed the launch of the Romanian Family Health Initiative (RFHI), implemented by JSI Research & Training Institute in association with the Ministry of Public Health (MOPH), and funded by the United States Agency for International Development (USAID). The program was aimed at increasing availability of family planning and reproductive health services to women of reproductive age (15–49 years old), especially those who belong to disadvantaged populations. RFHI worked at a national level, within the framework of national health programs and relied on three types of actions:
• Training family doctors to provide family planning and reproductive health services (FP/RH)
• Ensuring constant contraceptive availability
• Information campaigns on the availability of FP/RH services to increase demand
One of the RFHI components was specifically designed for the Roma ethnic group , a population that for various reasons faces serious obstacles when it comes to seeking and accessing medical assistance services. The project focused primarily on the Roma health mediators (RHMs); training in the field of RH/FP; supporting their activities by disseminating information and educational materials; and working to improve their status.
Read about how the Romania Family Health Project addressed the health needs of the under-served Roma population through culturally appropriate interventions.
Download (PDF, 1.05 MB)