Publications
JSI Case Studies in Capacity Building: Handicap International, Rwanda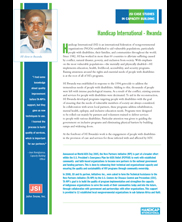 In the aftermath of the 1994 Rwandan genocide, Handicap International, a global federation of nongovernmental organizations that work to improve the lives of disabled people, moved in to help rebuild the country's decimated infrastructure surrounding support for Rwandans with physical or mental disabilities.
In order to secure funding and scale up project activities, HI Rwanda received support from JSI through Technical Assistance to the New Partners Initiative to assess the organizational and technical capacity of the project, and help optimize project interventions and improve information and reporting systems.
Read about TA-NPI's contribution to the HI Rwanda initiative in this Case Study in Capacity Building.
Download (PDF, 3.15 MB)